WE ARE
CLARETIANS
SONS OF
THE HEART OF
MARY
To be a Claretian is a way of being a man, a Christian, a religious and an apostle. It is to relive in community the spiritual itinerary and the fundamental concern of Claret to serve and build up the Church with the ministry of the Word, announcing the Kingdom of God.
We work in shared mission, with the different branches of the Claretian family: Claretian Missionary Sisters, Cordimarian Filiation, Lay Claretians…
If you want to know more about us, visit the page

If you want to know more about yourself, ask God.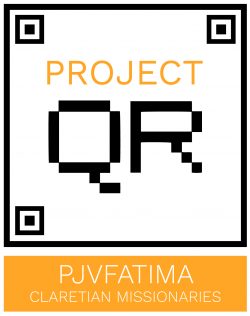 projectQR is an initiative that aims to promote environmental vocational ministry wherever young people are (parishes, schools, communities, adult education centres, temples, digital continent…). Through various proposals we remind them of the importance of seeking and responding to God's will and, above all, of praying for those who feel called to follow Jesus more closely.
Feel free to contact us.
We will get back to you as quickly as possible
Write us
ukyvm@fatimacmf.org